3-judge Supreme Courtbench to review 2018 SC/ST Act Judgement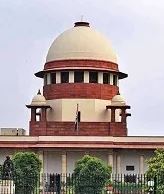 The Supreme Court has referred the Centre's plea seeking review of the verdict which had virtually diluted provisions of arrest under the SC/ST Act to the three-judge bench.
What was the verdict of Supreme Court?
The Supreme Court in its verdict had diluted the provisions citing gross misuse by complainants. The Supreme Court had noted that there is no absolute bar for granting anticipatory bail in a matter under the Act and also added that a public servant can be arrested after the grant of approval by some senior officer.
The Supreme Court had held that to avoid false implication of an innocent, preliminary enquiry must be done by the DSP to find out whether the allegations make out a case under the Atrocities Act and that the allegations are not frivolous.
Amendment Act Passed by the Parliament
The Parliament had even passed the Scheduled Castes and the Scheduled Tribes (Prevention of Atrocities) Amendment Act of 2018 to nullify the judgment of the Supreme Court. This amendment act had subsequently amended the 1989 Act which was diluted by the SC judgment back to its original form.
Petitions were filed in the Supreme Court questioning the amendments to the 1989 Act which nullified the SC verdict.
Centres Review Plea
The Central Government argued that:
The amendments were necessary as SC/STs continue to face the same social stigma, poverty and humiliation that they had been subjected to for centuries.
There was no decrease in the atrocities committed on members of SC/ST communities despite laws meant to protect their civil rights.
Despite the existence of 195 special courts across 14 States to exclusively try PoA cases, there was no decrease in the crimes against SC/ST members. As per the National Crime Records Bureau statistics, The number of cases registered under the PoA in 2014 was 47124, while in 2015 it was 44839 and 47,338 in 2016.
The government even urged the Supreme Court to consider that the SC/ST (Prevention of Atrocities) Act of 1989 is the least which the country owes to this section of society who have been denied several civil rights since generations and have been subjected to indignities, humiliations and harassment.
Topics: Caste • Caste system • Caste-related violence in India • Human rights in India • Indian caste system • Indian society • Scheduled Caste and Scheduled Tribe (Prevention of Atrocities) Act • Scheduled Castes and Scheduled Tribes • Supreme Court of India
Latest E-Books