World Bank
December 11, 2015
The Copenhagen Declaration at the "World Summit on Social Development" describes poverty as "a condition characterized by severe deprivation of basic human needs such as food, shelter, safe drinking water, sanitation, health, education, and information". Traditionally, World Bank has used $1.25 per person a day benchmark for...
March 28, 2015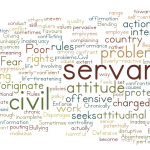 A good administration refers to both the requirements of service without undue delay and access to appropriate service. The concept 'effective administration' is means that each department, agency, local authority, or other public body exercises its powers in accordance with the purposes and standards defined bylaw in...
November 11, 2014
Figures compiled by the Ministry of Overseas Indian Affairs show that there are over 2,19,09,875 NRIs spread out across over different countries. The actual numbers are expected to be much higher than this. Whatever the exact figure is, it cannot be denied that India has a strong...
Advertisement