Women Empowerment
March 16, 2017
In India, political participation of women is not impressive when compared with men. This is the case in most of the countries across the world. However, women's political participation now is quite encouraging compared to the older times. Today it remains stronger than ever. But, in India,...
March 16, 2017
A self-help group is a small informal association of people created at the grass root level to get economic benefits on the basis of mutual help, solidarity and joint responsibility. The SHGs are formed voluntarily by the urban and rural poor for working together for social and...
March 16, 2017
Participation of women in NGOs gave them an opportunity to foray into the social and political spheres which were not easily granted by the for-profit and public sectors. Many NGOs that work to alleviate poverty among women also focuses on advocating the women's rights. These have brought...
February 28, 2016
Concept of Parivarik Mahila Lok Adalat (PMLA) was evolved by National Commission for Women (NCW) to supplement the efforts of district legal services authority (DLSA) for redressal and speedy disposal of matters related to family and marriage issues. The key objectives of PMLA include: To provide speedy...
August 31, 2015
Ultrasound applies to all sound waves with a frequency above the audible range of normal human hearing that is around 20 kHz. The frequencies between 2 to 18 MHz are used in diagnostic ultrasound or ultrasonography for visualizing subcutaneous (below skin) body structures including tendons, muscles, joints,...
March 1, 2015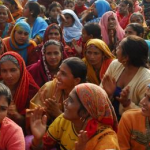 How does inadequate funding to Women welfare schemes proved to be a stumbling block in improving the conditions of women? Explain it in reference to Gender Based Budgeting and its experience.
Advertisement