US
October 11, 2016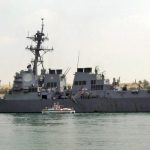 In a failed missile attack from Houthi-controlled Yemen a US Navy destroyer has been targeted recently. In another ballistic missile attack from Yemen, a Saudi air base near Mecca has been raided. This is being seen as the deepest strike by the rebels into the kingdom. However,...
October 5, 2016
In a sharp reaction to President Obama's criticism on ruthless anti-drug war by the Philippine leader Rodrigo Duterte, latter has stated to break all ties with United States of America if the latter stance continues. Duterte's anti-drug campaign has left more than 3000 dead in last 3...
October 4, 2016
In another jolt to US-Russia relations, President Vladimir Putin has suspended a deal on disposal of weapons-grade plutonium based on accusations that US is creating an atmosphere of posing a threat to strategic stability and has not been able to honour its obligations to use surplus weapons...
October 3, 2016
In a well-coordinated attack Taliban has launched a major offensive against the city of Kunduz in Afghanistan. The attack which began in midnight from all four directions still continues as police are trying to push the fighters back. Taliban are known to be positioned in civilian homes...
Advertisement