SAARC
November 3, 2016
This SAARC Framework Agreement for Energy Cooperation was pending since 2010, and was signed in October 2014. It was touted to be a crucial step towards a SAARC Market for Electricity (SAME) on a regional basis.  The key objective of this agreement is to improve power availability...
September 13, 2015
China is pushing for admission to SAARC as was evident in Kathmandu Summit. Chinese presence in Sri Lanka can be seen in all aspects of its economic life. In addition to the development of Hambantota and other Columbo ports, Chinese have made massive investments in vital sectors...
June 10, 2015
Bhutan was the first country that Prime Minister Modi visited after his appointment to the post. This action in itself signifies to the world the importance attached by India to Indo-Bhutan relations. Bhutan is of strategic, geo-political and economic significance to India. Diplomatic Relations India is a...
March 1, 2015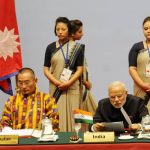 What are the challenges to India's engagement with its neighbors in the present geopolitics in Asia? How strengthening the SAARC would help India emerge strong in the region?
November 28, 2014
The 18th South Asian Association for Regional Cooperation (SAARC) Summit was held on 26–27 November 2014 in Kathmandu, Nepal. The outcome of the summit was the Kathmandu Declaration. This was the third time Nepal had organised the summit – first in 1987 and then again in 2002. About SAARC SAARC...
Advertisement