Nobel Prize
November 27, 2015
The Nobel Prize in Chemistry 2015 was awarded jointly to Tomas Lindahl, Paul Modrich and Aziz Sancar. The scientists have opened a new frontier in medicine by unveiling how the body repairs DNA mutations that can cause sickness and ageing. Their work led to the understanding of...
November 27, 2015
The Nobel Prize in Physiology or Medicine 2015 was divided, one half jointly to William C. Campbell and Satoshi Omura  "for their discoveries concerning a novel therapy against infections caused by roundworm parasites" and the other half to YouyouTu "for her discoveries concerning a novel therapy against Malaria"....
November 27, 2015
Alfred Nobel (1833 –1896) was a lonely millionaire who, despite his enormous wealth, was unhappy, deeply melancholic and left some heart touching love stories behind him. In 1847, when he was working with Théophile-Jules Pelouze at University of Turin , his co-worker Ascanio Sobrero had synthesized Nitroglycerine....
November 27, 2015
The Nobel Prize in Economic Sciences 2015 was awarded to Angus Deaton of Princeton University, New Jersey, USA, "for his analysis of consumption, poverty, and welfare". Angus Deaton is a British born economist. He earned his PhD in economics from Cambridge University and later he moved to...
November 27, 2015
The 2015 Nobel Peace Prize was awarded to the Tunisian National Dialogue Quartet for "its decisive contribution to the building of a pluralistic democracy in Tunisia in the wake of the Jasmine Revolution of 2011" The Tunisian National Dialogue Quartet is group of four civil society organisations. The group was formed in 2013...
November 27, 2015
The Nobel Prize in Literature 2015 has been awarded to 67-year-old Belarusian author Svetlana Alexievich for her for her polyphonic writings, a monument to suffering and courage in our time". She is the 14th women and also first from Belarus to win the prize. She is first...
November 27, 2015
The Noble Prize in Physics 2015 has been awarded jointly to TakaakiKajita and Arthur B. McDonald. TakaakiKajita is director of the Institute for Cosmic Ray Research and professor at the University of Tokyo. He discovered that neutrinos from the atmosphere switch between two identities. Arthur B. McDonald...
April 13, 2015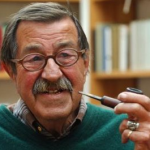 Günter Grass, who died on April 13, 2015 was Germany's Nobel Prize-winning author. Here are the 5 things that you must know about Gunter Grass. Günter Wilhelm Grass was born on October 16, 1927 in Gdansk, Poland. In 1930s, he was a member of the Hitler Youth....
Advertisement