judiciary
March 4, 2017
On January 2, the Supreme Court has delivered a judgment in Krishna Kumar Singh vs. State of Bihar,  stating that ordinances are subject to judicial review, and do not automatically create enduring effects. Put simply, ordinances are not immune from judicial challenge. This judgment is expected to...
January 25, 2017
After being sworn in as the Chief Justice of India, a laudable step taken by Justice JS Khehar was to revive the popular social justice bench that was set up in December 2014, by reversing his predecessor Justice TS Thakur's decision. This has been a very welcoming...
November 13, 2015
Right to privacy was earlier recognized as "implicit" in the right to life and liberty – guaranteed by Article 21 of the constitution. However, implicit rights have been subject to judicial scrutiny time and again. As per current judicial pronouncements, the right to privacy is a fundamental...
October 20, 2015
Indian judicial system is reeling under a back-breaking load of 3 Crore pending cases in various levels of the courts across the country. Urgent steps need to be taken to address the situation and at the current pace it will take about 300 years to clear the...
July 8, 2015
The Supreme Court on 6th July 2015 passed a landmark judgement that allows an unwed mother to be the sole legal guardian of her child without the consent of the father. This judgement has broken a long edifice of patriarchal supremacy in the society. Background According to...
March 29, 2015
Good governance means an accountable and audited public service which has the bureaucratic competence to implement appropriate public policies and an independent judicial system to uphold the law. Despite the continuing efforts to enhance the quality of governance in the country, from insufficiencies and complexities, both structural...
March 26, 2015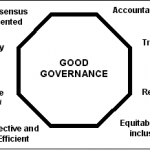 Discuss the values that characterize good governance while throwing light on their importance.
Advertisement