India's Neighbourhood
November 3, 2016
This SAARC Framework Agreement for Energy Cooperation was pending since 2010, and was signed in October 2014. It was touted to be a crucial step towards a SAARC Market for Electricity (SAME) on a regional basis.  The key objective of this agreement is to improve power availability...
November 28, 2015
In October 2015, the Union Cabinet has approved the Revised Cost Estimate (RCE) of Rs.2904 Crores for Kaladan Multi Modal Transit Transport  project. The completion of KMTT project will play a major role in economic development of the North-East India and it will improve the bilateral relations...
September 13, 2015
India and China share a 3,488 km disputed border along the chilling heights ranging from 12,000-17,000 feet. The fact is that the border has not been agreed on either on ground or on maps and the peace agreement of 1993 has named the border as Line of...
March 1, 2015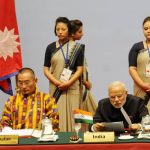 What are the challenges to India's engagement with its neighbors in the present geopolitics in Asia? How strengthening the SAARC would help India emerge strong in the region?
Advertisement