Indian Patent Act
September 10, 2016
In the second week of May 2016, the Union Cabinet has approved a new National Intellectual Rights Policy to outline the future roadmap for IPR in India. Vision Statement This policy has been released with a vision statement that envisages an India where – creativity and innovation...
March 3, 2015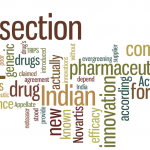 Explain why Section 3(d) is important to India's patent regime? Do you think that section 3(d) is a patent policy innovation by India? Substantiate your view.
January 10, 2015
The cost of drug depends on the expenditure of the research and procedures of approval. Every newly launched drug is thus very expensive to begin with. Patent regime protects their investments of resources. After the patent is over, the same drug can be copied by anybody and...
Advertisement