Ethiopia
October 9, 2016
In a sharp reaction to the wave of protests against the ruling government in Oromia and Amhara regions of the country, Ethiopia has declared a state of emergency. Prime Minister Hailemariam Desalegn announced the same as he raised concerns about security of the people amid rising social...
October 5, 2016
In another assault on free expression, Ethiopia- a country known as the world's worst jailer of journalists Ethiopian police has detained a notable blogger Seyoum Teshome few days after deadly protests  in Oromia and Amhara. Teshome has been arrested because of his outright criticism of governmental way...
October 3, 2016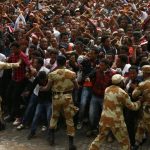 In a horrific incident, dozens have been reportedly crushed to death in a stampede after the police fired tear gas and rubber bullets to stop and disperse the anti-government protestors that came together in Oromia festival celebrations. The actual number of deaths is not confirmed but the...
Advertisement