Bhoodan Movement
December 5, 2015
Voluntary efforts by organisations were initially focussed on poverty alleviation. After the Bhoodan and Gramdan movements, voluntary organisations took up the issue of land reforms. They started working for the voluntary donation of land and its redistribution to the landless. The voluntary organisations have realized that land...
December 5, 2015
The Bhoodan and Gramdan movements led by Vinoba Bhave attempted to bring about a "non-violent revolution" in India's land reforms programme. These integrated movements were an attempted to implement land reforms by urging the landed classes to voluntarily surrender a part of their land to the landless....
February 25, 2015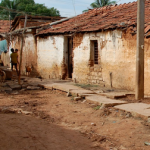 Despite consistent efforts made by successive governments, rural development still seems to be distant dream. Critically examine the challenges to rural development schemes at structural, functional, and implementation levels?
Advertisement