Agriculture Extension
May 12, 2015
National Mission on Agricultural Extension and Technology (NIMAET) is a new 12th Plan programme approved by outgoing UPA Government in February 2014 with an objective to spread farm extension services and mechanization. The NDA Government has included a lots of other activities for Agricultural Extension and Technology...
March 1, 2015
Elucidate the concept of climate smart agriculture? Why it is important for country like India and how it can be achieved?
February 13, 2015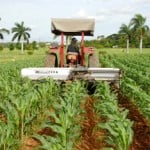 Being a agro-based economy, agriculture in India is not able to improve the livelihood of farmers. What are the measures to be adopted to revamp the agriculture to deliver the desirable results?
Advertisement