Administration and Governance
July 15, 2015
'Community Policing' is a joint endeavour between Police & Community to recognize troubles of crime, disorder and calls for all components of the community in the hunt for answers to these troubles. This notion brings the Police & Community into a closer operational association and demands larger...
March 29, 2015
Probity (Satyanishtha in Hindi) literally means a complete and confirmed integrity; having strong moral principles. Every day, we hear and talk about probity in public life. We expect our political leaders and bureaucrats to be transparent in their dealings. Their alleged misdeeds, scandals and scams are publicized...
March 29, 2015
Good governance means an accountable and audited public service which has the bureaucratic competence to implement appropriate public policies and an independent judicial system to uphold the law. Despite the continuing efforts to enhance the quality of governance in the country, from insufficiencies and complexities, both structural...
March 28, 2015
What are the features of good governance that makes it significance in the working of the government? Discuss.
March 28, 2015
In terms of distinguishing the term governance from government, "governance" is what a "government" does. It might be a geo-political, a corporate government, a socio-political government, or any number of different kinds of government. Governance is the dynamic exercise of management power and policy, while government is...
March 28, 2015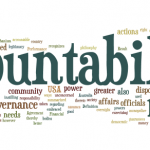 The accountability of civil servants both to ministers and to the Parliament, are constitutional and politically significant. The personal accountability of civil servants and their responsibility towards the society are equally substantial and they are interconnected. In particular their accountability of the actions and the responsibility towards...
March 28, 2015
People seek accountability. They want to know who is responsible and accountable for certain actions and the consequences of those actions. Responsibility refers to "a sphere of duty or obligation" assigned to a person by the nature of that person's position, function, or work. Responsibility refers to...
March 28, 2015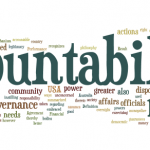 What do you understand by Accountability? Discuss the role of accountability in Good Governance.
March 26, 2015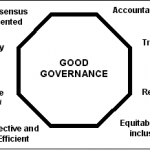 Discuss the values that characterize good governance while throwing light on their importance.
February 13, 2015
What are the rules governing the higher civil service appointment? How in the decades the procedure lost its relevance and such appointment becomes merely political?
Advertisement