Tea Production in India
Area Under cultivation:

Tea Producing Districts/ Areas:

Assam: Darrang, Goalpara, Kamrup, Lakhimpur , Dibrugarh, Nowgong, Sibsagar, Cachar , Karbi Anlong , North Cachar


West Bengal : Darjeeling, Terai (west Dinajpur), Doors (Cooch Bihar) .


Tamil Nadu: Kanyakumari, Tirunelveli, Madurai, Coimbatore , Nilgiris


Kerala: Cannanore, Palghat, Kozhikode, Malapuram, Trichur, Trivandrum, Quilon, Kottayam, Ernakulam, Idukki, Wynaad


Karnataka: Chikmagalur, Coorg, Hassan

The Largest state with area under Tea Plantations in India is Assam. The following table shows the states in India with Tea Plantations.
The above chart makes it clear that Assam has an area of tea cultivation in India which is more than half of India's Total Tea plantation area. In South India Tamil Nadu covers the maximum plantations.

Production in Quantity:

In 2008-09, as per Tea Board data, India produced 980820 Metric Tons.


North India produces approximately thrice the quantity produced in South India.


In 2008-09, while North India produced 733920 tons, South India produced 24690 metric tons.


The following table and graphic shows the largest Tea Producing states in India.


Assam roughly accounts for Half of India's Tea Production.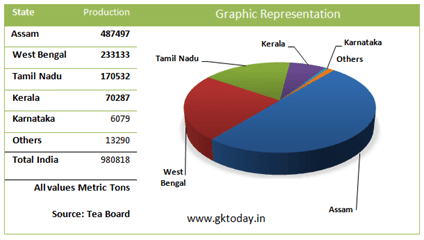 Last Updated: November 22, 2013
Advertisement