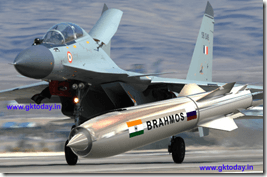 India is heading towards joining the power club of few countries having air-launched cruise missiles with a proposal to equip the Indian Air Force's vanguard fighter aircraft Su-30 MKI with BrahMos. The Cabinet Committee on Security is likely to mull over the proposal of the Defence Ministry to procure the air-launched version of the 290-km-range BrahMos supersonic cruise missiles for the IAF
The proposal entails approval of funds to integrate and test the BrahMos missile on the Su-30MKI of the IAF. Plans are in place to conduct 1st test of this version developed jointly by India &Russia, by December 2012. Hindustan Aeronautics Limited (HAL), at its Nasik unit, will modify and integrate two SU-30MKI with aerial launcher developed by the BrahMos.
What will be the advantages of this version on the battle field?
The BrahMos missile integrated Su-30s will aid the IAF in attaining the potential to deliver a deadly-blow to enemy structures from a range of around 300 km. It will be lighter and smaller than the land-based version of the missile so that it can be fitted to the aircraft.