India's Livestock Population
India has vast resources of livestock and poultry, which play a vital role in improving the socio-economic conditions of the rural masses. India ranks

first in respect of buffalo,


Second in cattle & goats,


Third in sheep,


Fourth in ducks,


Fifth in chickens


Sixth in Camel population in the world.


India has 57% of the world's buffalo population.

The following table shows India's Livestock Population: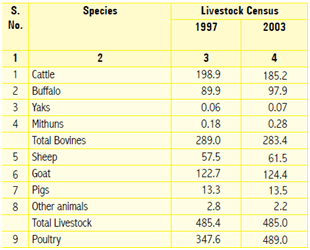 Source: Department of Animal Husbandry, Dairying and Fisheries, values in millions

Total Population of Goats is more than that of sheep.


India's Total Livestock was 489 million in 2003.