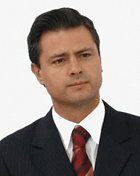 The leader of Institutional Revolutionary Party, Enrique Peña Nieto has been elected as the new President of Mexico. He beat Party of the Democratic Revolution (PDR) candidate Andrés Manuel López Obrador. Enrique Peña Nieto, 45, was earlier the governor of the State of Mexico. 
As per the Mexican Constitution:
The President is the head of both the state and the Government.
President is also the Supreme Commander of the Mexican armed forces.
Mexico holds Presidential elections every 6 years since 1934 (earlier it was every 4 years).
The President is elected via direct and universal adult voting system, where the candidate who gets maximum number of votes is announced winner.
The constitution of Mexico does not provide any runoff election.