Presidential Medal of Freedom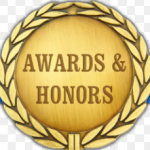 Comedian Ellen DeGeneres was awarded the Presidential Medal of Freedom, which is America's highest civilian honour. President Obama honoured 21 people with the Presidential Medal of Freedom in the White House including actors, performers, scientists, athletes, among others. The prominent awardees were actors Tom Hanks, Robert De Niro, Robert Redford and Cicely Tyson, musicians Bruce Springsteen and Diana Ross, Philanthropists Bill and Melinda Gates and basketball players Michael Jordan and Kareem Abdul-Jabbar.
The Presidential Medal of Freedom is an award bestowed by the President of the United States to those who have made meritorious contributions to the national interests, security, and culture of the United States. The award was established in 1963 by President John Kennedy and is not only limited to the US citizens.
Tags: awards and honours • Bill Gates • Bruce Springsteen • Cicely Tyson • comedian Ellen DeGeneres • Diana Ross • Ellen DeGeneres • highest civilian honour • John Kennedy • Kareem Abdul-Jabbar • Melinda Gates • Michael Jordan • Presidential Medal of Freedom • Robert De Niro • Robert Redford • Tom Hanks • TV show host Ellen DeGeneres • US • White house
Advertisement