India
India displayed a clinical performance to beat hosts Sri Lanka and clinch the Asian Cricket Council Under-19s Asia Cup title. India beat Sri Lanka by 34 runs.  India posted a competitive score of 273 in their 50 overs. Sri Lanka was able to score only 239 in 48.4 overs. The event was held in Colombo, Sri Lanka.
Tags: Asian Cricket Council Under-19s Asia Cup • cricket • India • Sri Lanka
As per the Global Wage Report 2016-17 released by the International Labour Organisation (ILO), India has the worst levels of gender wage disparity with the gap exceeding 30%. In India, men were found to earn more than women in similar jobs.  In India, women formed only 60% of the lowest paid wage labour and comprise only 15% of the highest wage earners. Thus in India, women were not only paid less but are also poorly represented in the top bracket of wage-earners.
Compared to a global average of 40%, the share of women wagers in South Asia was only 20%, which is among the lowest. The gender wage disparity gap of Singapore is among the lowest, at 3%. Among the major economies, only South Korea fared poorer than India with a gap of 37%.
Tags: Global Wage Report • ILO • India • Singapore • South Korea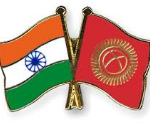 India and Kyrgyzstan have signed six Memoranda of Understanding (MoU) after delegation level talks between President of Kyrgyzstan Almazbek Sharshenovich Atambayev and Prime Minister Narendra Modi in the areas of tourism, agriculture and food industry, youth development and broadcasting and exchange of audio-visual programmes. The support provided by the Kyrgyz Republic to the Kyrgyz-India Mountain Bio-Medical Research Center was highly appreciated by the Indian side. Similarly, the support extended by India in setting up a Telemedicine Network in Kyrgyzstan was highly appreciated by the Kyrgyzstan. Kyrgyzstan also reiterated its support for India's permanent membership in an expanded UN Security Council.
List of agreements signed between India and Kyrgyzstan:
MoU in the field of Tourism between the Ministry of Tourism of India and the Ministry of Culture, Information and Tourism of the Kyrgyz Republic
Agreement in the field of Agriculture and Food Industry
MoU in the field of Youth development between Ministry of Youth Affairs and the state agency of Youth Affairs, Physical Education and Sports of the Kyrgyz Republic
MoU between Foreign Service Institute and Diplomatic Academy of Kyrgyz Republic.
MoU in youth exchange between NCC of India and Military Lyceum of Kyrgyz Republic
MoU in the field of Broadcasting and exchange of audiovisual programmes between Prasar Bharati of India and Public Broadcast Corporation of Kyrgyz Republic.
Tags: Bilateral ties • India • India-Kyrgyzstan • Kyrgyzstan • MoU • Narendra Modi • Prime Minister
Advertisement