China
China has launched a 620-kg satellite TanSat into orbit to monitor global carbon dioxide levels to understand climate change. The satellite was put into orbit by Long March-2D rocket from Jiuquan Satellite Launch Centre located in Gobi Desert. Apart from TanSat satellite, a high-resolution micro-nano satellite and two spectrum micro-nano satellites for agricultural and forestry monitoring were also launched. The satellite placed in the sun-synchronous orbit will monitor the concentration, distribution and flow of carbon dioxide (CO2) in the atmosphere. It will monitor global carbon dioxide levels every 16 days accurate to atleast 4 parts per million (ppm). With this launch, China has become the third country after Japan and the US to monitor greenhouse gases with the help of its own satellite.
Tags: Carbon dioxide • China • climate change • greenhouse gases • satellite • TanSat
Hong Kong has decided to withdraw visa-free facility for Indians. From January 23, 2017, onwards, Indian travellers will have to complete a pre-arrival registration. The move was taken on the ground that the number of Indian asylum seekers was on the rise. Over half a million Indians visit Hong Kong for business, trade and holidays. Hong Kong has been permitting Indians to enter with a valid passport for a period up to 14 days without a visa.
Hong Kong is a special administrative region of China.
Tags: China • Hong Kong • Visa On Arrival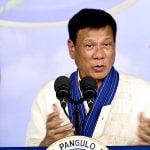 President Duterte has threatened to cancel its aid pact-the Visiting Forces Agreement with US which allows US troops to visit Philippines as US cancelled a major aid package over its concerns on human rights. A US government aid agency Millennium Challenge Corporation has put off a vote on the renewal of development assistance package for Philippines due to review of concerns around the rule of law and civil liberties. The 1998 accord allows American forces to visit Philippines for joint combat exercises.
Duterte government has abused Washington over its criticism on the crackdown on drug dealers and users. He voiced words of praise for China for offering huge financial assistance and stated that Philippines do not need any more US aid. Duterte also admitted to personally killing 3 men while he was mayor of Davos. His unpopular anti-drugs programme has left 4500 Filipinos dead over a period of five months due to extra-judicial killings of addicts and dealers.
Tags: Aid pact • Anti-drug campaign • China • Philippines • President Duterte • US • Visiting Forces Agreement
Advertisement