AIBA
Association Internationale de Boxe Amateur (International Boxing Association) has granted full membership to the recently-formed Boxing Federation of India (BFI). This was announced on the sidelines of 70th anniversary celebrations of AIBA in Montreux, Switzerland. With this announcement, India's isolation due to international suspension for the past four years comes to end. International suspension for a prolonged period has deprived Indian boxers of foreign exposure. This is considered as a major factor in the boxers' medal-less Olympic campaign in Rio.
AIBA had suspended the Indian Amateur Boxing Federation (IABF) in 2012 after reports of manipulation of the IABF elections.
Tags: AIBA • BFI • Boxing • Boxing Federation of India • International Boxing Association
Sachin Singh became the third Indian boxer to clinch gold at the AIBA Youth World Championships held in St Petersburg, Russia. He contested in 49kg weight class and recorded a rare Indian win over a Cuban boxer. India has finished the AIBA Youth World Championships with one gold and a bronze, which is an improvement over the solitary bronze won in the 2014 episode. Earlier, Naman Tanwar clinched Bronze medal in the 91 kg category.
Sachin, an Asian Youth Championships quarter-finalist has brought back victory to India after a gap of 6 years. The last gold was won by Vikas Krishnan in the 2010 edition of the championship. Sachin will be given a cash award of Rs. 1 lakh by Boxing Federation of India (BFI).
Tags: AIBA • Boxing • Boxing Federation of India • International Boxing Association • Naman Tanwar • Sachin Singh • St Petersburg • Vikas Krishnan • Youth World Championships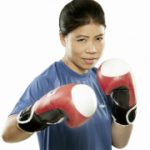 An Olympic bronze medalist and a five-time world champion M C Mary Kom is set to receive the 'Legends Award' from the International Boxing Association (AIBA) on its 70th anniversary on December 20. She was also named as an AIBA brand ambassador during the World Championships held earlier this year
Mangte Chungneijang Mary Kom belongs to hails from the north-eastern state of Manipur. She is the only woman boxer to have won gold medal in each one of the six world championships. She had won a bronze medal in 2012 London Olympics in the flyweight (51 kg) category. She has been conferred with Padma Bhushan (2013), Padma Shree (2010) and Arjuna Award for Boxing (2003). Presently, she is also a Rajya Sabha MP.
Tags: AIBA • Arjuna Award • Boxing • International Boxing Association • Legends Award • Mary Kom • Padma Bhushan • Padma Shree • Rajya Sabha MP
Advertisement