Afghanistan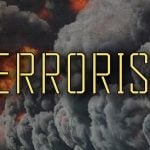 As per a report of Global Terrorism Index (GTI) 2016, which is released by Institute of Economics and Peace which is a think-tank based in Sydney, Australia India has been ranked 7th among a list of countries which are most affected by terrorism in 2015.
India has been ranked among the top 6 Asian nations most affected by terrorism. In the Heart of Asia conference which was held on December 04, 2016 had adopted the Amritsar Declaration. It recognises terrorism, extremism, radicalisation, separatism and sectarianism and all connections among them as the gravest challenges faced by the region.
The declaration had raised special concerns about all South Asia based terror outfits like ISIS and its affiliates, Al-Qaeda, Lashkar-e-Taiba, Jaish-e-Mohammad, Haqqani network  and even Tehreek-e-Taliban, Pakistan. As per a report, although there has been a sharp decline of about 45% in the terrorism-related deaths in 2015 as compared to 2014, the number of casualties in army and paramilitary forces is recorded at an eight-year high. The number of terrorist attacks has risen by 4% with a number of 797 recorded this year. However, despite the number being high, about 80% of these were non-lethal. These attacks were carried out by 49 different terrorist groups but 31 of them failed to kill anyone.
The data suggests that India experienced twice as many attacks as Syria (384) but fewer than Iraq (2415), Afghanistan (1715) and Pakistan (1008) in 2015. Also in a worldwide report, the total number of deaths declined by 10% from the highest level of 32, 765 in 2014 to 29, 376 in 2015.
The score in GTI is based on weightage given to total number of incidents, fatalities, injuries and damage caused to property in the year under scan. It also compares the data with the with previous four years.
Tags: Afghanistan • Global Terrorism Index 2016 • Haqqani network • India • Iraq • ISIS • JeM • LeT • Pakistan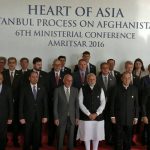 The Sixth Heart of Asia Ministerial Conference has adopted the "Amritsar Declaration" with its prime focus on terrorism.  It stresses on all the countries concerned to take an account of the deteriorating situation and enhance regional economic cooperation. PM Narendra Modi had picked Amritsar as the venue in line with his policy of hosting international conferences outside the capital to open the world closer to other cities of India. In addition, Amritsar was the apt choice as it adds to the theme of connectivity as the city has been on the Grand Trunk Road which once connected Sonargaon in Bangladesh to Peshawar in Pakistan.
Three significant issues were discussed in the conference, viz. elimination of terrorism and all its manifestations which include dismantling of all terrorist safe havens and disruption of all kinds of financial, tactical and logistical support for terrorist activities. The declaration also enumerated the grave challenges posed to the region emanate from terrorism, violent forms of extremism, radicalization, separatism and sectarianism.  It mentioned that together these pose a serious threat to territorial integrity, economic development, sovereignty, bilateral and regional cooperation. The need for highly effective de-radicalization and counter-radicalization strategies was also felt. Concerns were also felt over growing violence in Afghanistan by groups like Al Qaeda, LeT, JeM etc. The MoU between China and Afghanistan on Jointly Building the Silk Road Economic Belt and the 21st Century Maritime Silk Road was also welcomed by the declaration.
Almost all the participating and supporting countries along with international organizations attended the conference. Guest countries included Austria, Bulgaria, Latvia and Uzbekistan.
Tags: Afghanistan • Amritsar Declaration • Counter terrorism • extremism • Heart of Asia Conference • India • Pakistan • radicalization
Advertisement